F4 Nail Printer White Color
Item No.: A6
The Portable 3D luxury smart nail printer combines printing technology and nail art, which enable nail printer to print any pictures . The machine controlled by APP through WIFI, the APP is free .
Product parameters
nail art printer:
Nail Printer
Login to see price
INQUIRY
Description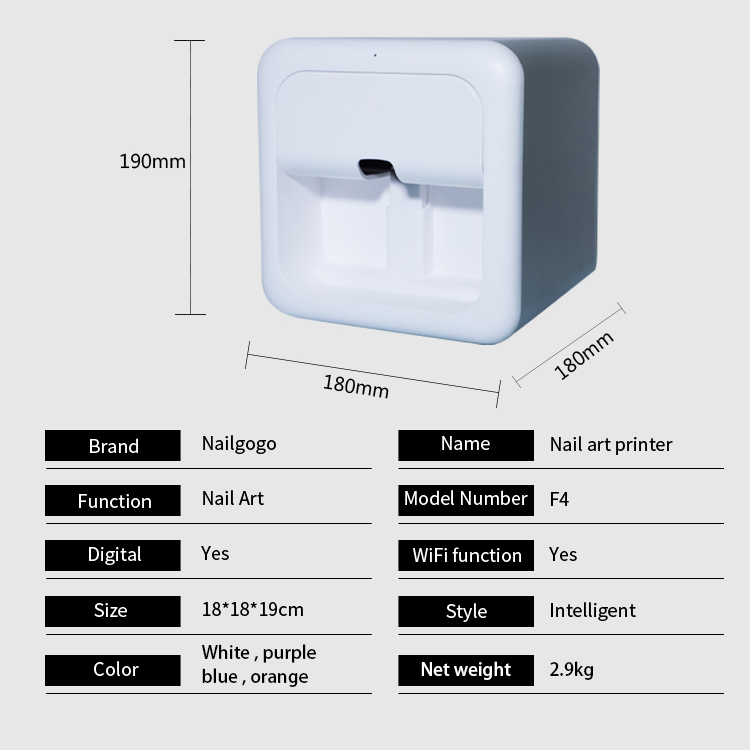 Product Introduction:
The Nailgogo brand F4 nail printer is the latest nail printer with nice appearance.
Our nail printer combines printing technology and nail art , which can accurately print any photos what you want . The nail printer contact with Nailgogo APP via WIFI , then controll the nail printer . the APP is free and suitable for Andriod phone.
What is the advantages of Nailgogo ?
1 . 4000Mah Power bank inside the machine , It is very convenient to print photo on your nail any time and any place . even it can recharge your cellphone.
2 .There are 1000 nail art designs in APP's gallery for you choose,and we add new designed models every month.
3 . You can print the photos in your cellphone to the nails surface .
4 . With high quality 300 DPI ink cartridge , it can print about 1200 nails .
5 . And our unique inkjet printing technology ensures the high resolution and clear print effect .
6 .We have good after-sales service. We can reply you immediately online.